It doesn't take people giving a lot to make a difference, just a lot of people giving a little bit. We are asking people like you to commit to feeding one person one meal once a month. That's it. The cost to feed someone is only $2.77, the price of a cup of coffee. Our plan is to connect with enough individuals to feed a majority of the homeless in our city.
Poverty and homelessness are serious issues for Lincoln. We believe we can solve these problems, even put an end to them. We have been working with the poor for 115 years. The resources to end poverty are primarily in the public. Individuals, businesses, service, and religious organizations giving money, time, and material possessions can change everything.
Give a little, change a lot!
We now have an AMAZON WISH LIST for easy donation. By purchasing from this list, items will be shipped directly to our shelter.
We do not receive a list of purchasers, so we are unable to thank you personally or give you a receipt for taxes. THANK YOU!
Sanitizer wipes

Cleaning supplies

Latex gloves

Towels - Bath, Hand, Face

Water

Washcloths

Liquid Laundry Detergent

Men's Deodorant

XL Twin Sheets

Kleenex - regular and travel size

Q-Tips

Standard Size Bed Pillows

Pillow Protector Cases

Kids Cough & Cold Medicine

Mucinex*

Robitussin*

Daytime Cold & Flu

Ibuprofen & Infant Ibuprofen*
Alieve

Melatonin

Cough Drops

Benadryl - Allergy

Medicated Body Powder

Men's Belts (all sizes)

Men & Women's Disposable Razors

Men's Briefs/Boxers - All sizes, mostly Large-2X

Women's Briefs - All sizes, mostly 5-14

Fixodent

Twin Blankets

Bowls (Soup, Cereal)

10 & 16 oz Tumblers (Glass or Plastic)

Men's and Women's Hair Brushes, Combs, and Pics for African-American Hair
Antifreeze

Car or Truck Fluids

Chemicals of any kind

Any Wet Items (clothing, bedding, etc.)

Car Parts

Fluorescent Light Bulbs

Old Style Tube T.V.

Tires

Prescription Medicine

Paints

Chemicals/pool/garden

Batteries

Large Appliances

Sofa Sleepers

No Alcohol based Medication (Night Quill), & NO open cleaning supplies of any kind

Cleaners of any Kind (Cleaning supplies ARE accepted at the shelter, ie: Clorox wipes, disinfecting sprays, etc.)
This is the hub for our donations and the best place to bring your housewares, furniture, kids' stuff, personal care items, non-perishable food, and clothing. We ask that non-clothing items be in usable and working order.
Drop-off Hours:
Monday-Saturday: 8am-5pm
Sunday: Noon-5pm
Address:
6800 P Street
Lincoln, NE 68510
Phone: 402.475.6888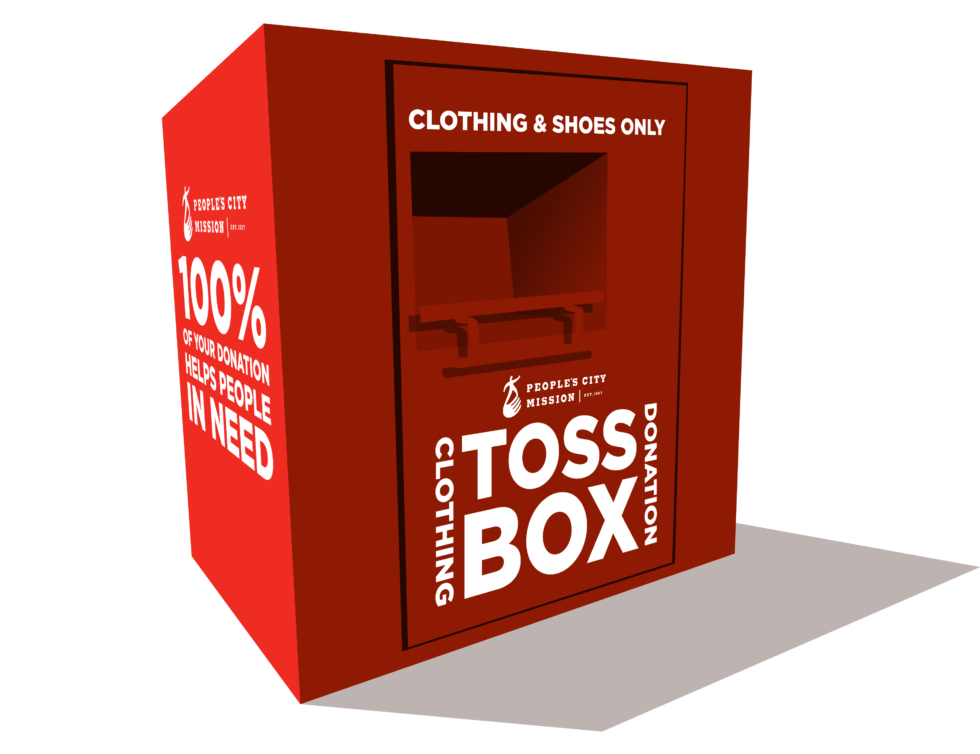 We have several Toss Box locations around town, for wearable and textile donations.
Please call 402-475-1303 to confirm box locations, as they occasionally change. We are always working on updating the map.
LINCOLN AREA Toss Box Locations
NORTH EAST
• 84th & Holdrege (Hy-Vee)
• 63rd & Havelock (Russ's Market)
• 70th & Adams (Dollar Tree)
NORTH CENTRAL
• 33rd & Superior (U-Stop)
CENTRAL
• 50th & O Street (Hy-Vee)
SOUTH EAST
• 70th & Pioneer (Hy-Vee)
• 70th & Van Dorn (HIS Autocare)
• 56th & Old Cheney (U-Stop)
• 84th & Hwy 2 (Sam's Club)
• 70th & A (Clocktower)
• 84th & Pioneers (St. Marks Church)
• 73rd and Pine Lake (U-Stop)
NORTH WEST
• 46th & W Huntington (Air Park Fresh & Save)
• 1st & Superior (Parkview Christian)
SOUTH WEST
• West A & Coddington (Russ's Market)
90% of our annual budget goes to direct care for the hurting in our community.
We take this seriously. That's why you can trust that we'll use every dollar to achieve the greatest impact. PCM is primarily funded through private donations, with over 95% of our support coming from generous individuals, groups, businesses, and churches in Lincoln and the surrounding areas, as well as business income.
YOUR GIFTS MAKE AN IMPACT
Every year, you help people overcome poverty, homelessness, and addiction. Thank you for making a life-changing difference for People's City Mission.
Serve over
different people (1 in 8) in Lincoln (between our Help Center, Shelter, and Clinic)
Give away over
pounds of food to homeless and impoverished in Lincoln
Serve over
meals at our Shelter
Give away over
meals-to-go to the homeless on the street