Nebraska prisons are #1 in overcrowding.
PCM's Curtis Center is making a way for former prisoners to successfully move forward, not back.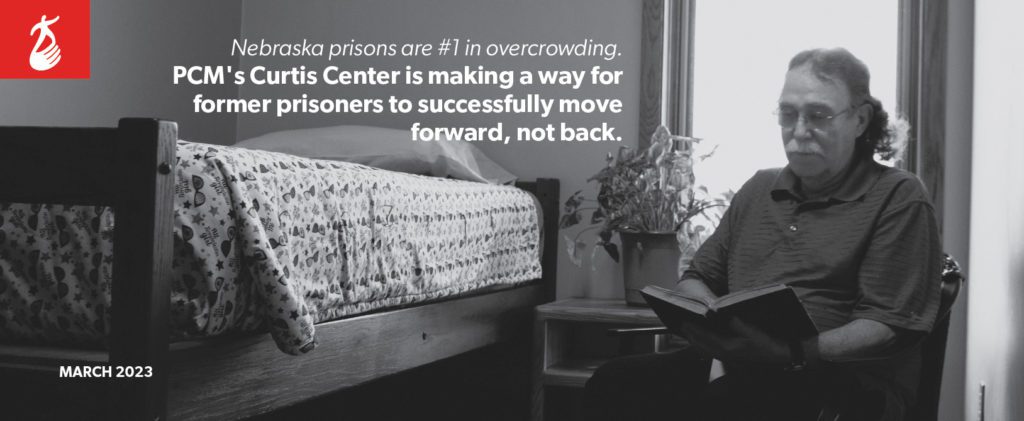 Why is it so difficult for folks recently released from incarceration to successfully integrate back
into the community? The majority of material and social structures they had prior to sentencing
have either been changed during their time away or no longer exist. They also have the disadvantage of a criminal record. Because of their past errors, many have "burned bridges" of support previously supplied by family and close friends. It takes time and changed behavior to build back or, in some cases, establish for the first time, that one is law-abiding, reliable and responsible. 
The Curtis Center (part of PCM) offers hope and second chances to those coming out of incarceration. While residing at The Curtis Center, their essential needs are met, as well as technical assistance in job-seeking, healthcare, transportation and on-site work responsibilities. They find it to be a vital stepping-stone making the difference in whether or not they establish long-term, stable, productive lives. Without this important transition piece, many would fail within the first week adding to recidivism statistics and contributing to the problem of prison crowding.
Did you know that an inmate doesn't have a chance at parole if they don't have anywhere to go after release? Having a plan in place before going before the parole board is vital, so The Curtis Center works with institutions to make that happen.
Mark* has been at The Curtis Center for about a year and a half. He came to us directly after release from prison. Mark found a job at a local factory and has flourished there while going through the program here. He is one of many success stories – Mark has really used the resources provided for him at The Curtis Center to move his life in a positive direction and we are very proud of his drive to make a better life for himself.
As the needs of recently released offenders can't be overstated, neither can the viability and necessity of People's City Mission. An investment in PCM is an investment in pro-active social change. It increases productivity, lessens crime and promotes safety. And just so you know, we offer these same services to women. Would you consider a financial gift to help reach men and women like Mark? We at the Mission, and those we serve, are so grateful for your support.
God's blessings,
Pastor Tom                                     
*name changed
IMPACT THE CURTIS CENTER HAS HAD, BY THE NUMBERS:
50% of inmates released are back in jail within 3 years.
The Curtis Center gives them a better chance, with a recidivism rate of around 34%.
#1 Nebraska has had the most overcrowded prison system in the nation.** Not what we want to be #1 for…
The Curtis Center helps to alleviate overcrowding in Nebraska facilities.
In 2022 alone, The Curtis Center had 120 program participants.
Each one is given the opportunity for a fresh start in life and the resources to achieve their goals.
**Nebraska Examiner, Feb. 1, 2023