PCM Has a Completely FREE Dental Clinic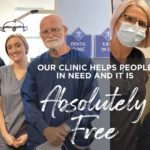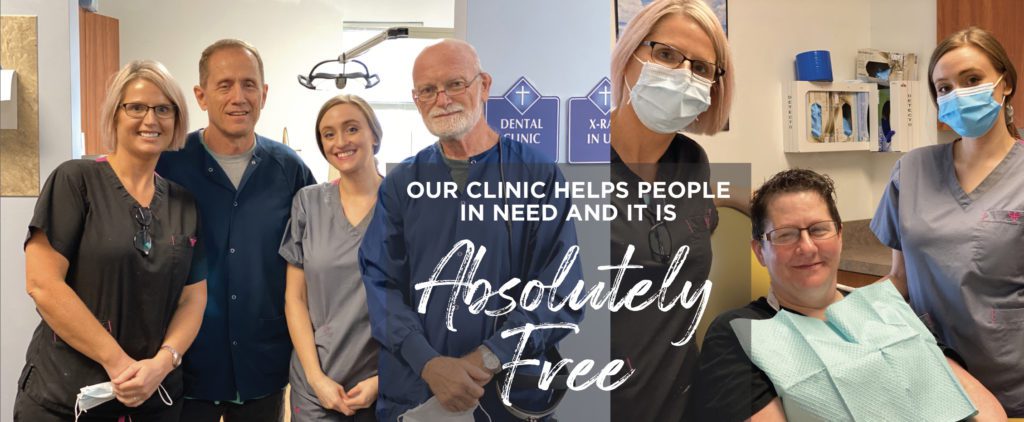 Have you ever had a toothache? I have, and let me tell you – the pain was all-consuming. Fortunately, I was able to go to my dentist and get it fixed. But what if I didn't have insurance or enough money to see a dentist? Did you know there are a number of people in Lincoln experiencing this predicament? Not just the homeless, but also many of the working poor.
That is why we are operating a free dental clinic. There is never a charge for any of the services we provide. Our amazing volunteer dentists and oral surgeon see an average of over 100 patients a month. In addition to fillings and extractions, they also do restorations and dentures, with unbelievable results.
Dental Coordinator Pat Hupp (2nd from left in first photo) says that on average Dr. Tilley (far right of the first photo) and Dr. Plate (far left) with dental assistant Bree, work together on approximately 20 oral surgeries per month, many of which would cost thousands of dollars in private practice.
Leanne, the patient in the above photo, is one of the many folks we have helped. She says "I was on the wrong path in life, but I'm getting my life back together. They have been a blessing to me. I don't know what I would have done without this place."
We see folks like Leanne every single week. And we need your help to continue providing these important services to people in need. Would you consider a financial gift to help Lincoln's most vulnerable population? Thanks so much for any support you can give. Just know you are making a real difference in the lives of others!
Blessings,
Pastor Tom
THE PLAN: Fully re-open the clinic
We opened the Free Clinic in 2009 to provide quality healthcare to Lincoln's homeless & working poor. Run by volunteers and receiving no taxpayer dollars to operate, the Clinic quickly grew, becoming the third-largest free medical clinic in the country by 2016, with over 18,000 patient visits per year at the height of operation.
As costs skyrocketed, we made the difficult decision in 2019 to limit services to dental, podiatry, chiropractic and mental health only.
Yet, the need for medical care for the poor remains. Thousands of adults and families in Lancaster County have no health insurance. Not having sufficient funds to pay for their medical treatment, many people go without the medications they need for conditions such as diabetes, asthma, high blood pressure, coronary artery disease and high cholesterol. They often find treatment only through hospital ER visits for which they can't pay. Common everyday illnesses in children often times go untreated due to the parent's inability to pay for doctor's visits and/or medication.
Nate Blum, a friend of the Mission, is leading an effort to fully re-open the Clinic. He is focused on funding an endowment that will sustain free medical care for the needy in Lincoln indefinitely.
If you would like to specifically support the clinic, go here. On the donation page before payment information, you will find Give to Free Medical Clinic. In the box next to that, type the amount of your donation that you would like to go towards the clinic. Thank you!