Recycling: Things You Don't Need Can Change A Life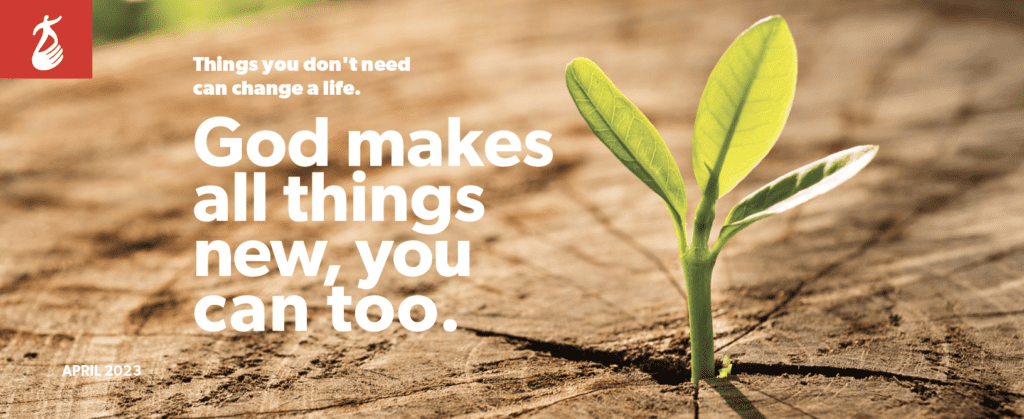 I want to talk to you about recycling. Not just reuse and recycling of textiles (we'll get to that later). But have you ever realized that the Giver and Creator of all resources, has demonstrated a model of recycling from the beginning? "He comforts us in all our troubles so that we can comfort others. When they are troubled, we will be able to give them the same comfort God has given us." Isaiah 43:19
Truly, God is in the recycling business. All throughout the Bible we see God repurpose and resuse lives who have unbelievable amounts of garbage in them. In addition to forgiveness of sins and eternity in heaven, God's offer to every believer is new life here on earth, an exchange of the trash of your past for a repurposed future. Now, that's gold. God has a purpose and a redemptive plan, even in our screwups.
Here at PCM, we embrace that message wholeheartedly. We are a Mission full of people needing new life and repurpose. In addition to meeting the spiritual needs of our guests, we have practical needs. This is the part about recycling where you come in. PCM has Toss Boxes around the area where folks can drop off used textiles (clothing, towels, shoes, purses, belts…). Those items are taken to our Help Center, where we give away the best and recycle the rest. Recycled textiles are eventually purchased by micro-businesses in developing nations. The revenue from the recycling goes to fund the PCM services that are vital to the homeless and impoverished.
Just a side note, did you know that with other recycling boxes you see around town, only 5 cents of every dollar made goes to the actual need? That is NOT how we operate. 100% of every dollar made with our recycling program goes directly to help the homeless.
So, here's my request. Would you have anything in your closets or drawers that is no longer useful? Any contribution you can make right now would be of tremendous help. And, of course financial donations are greatly appreciated too. It has been a hard winter for shelter operations.
God makes all things new! We are deeply committed to being the hands and feet of Jesus, reaching out to the many broken lives passing through our doors. Thanks so much for partnering with us. I pray you and your loved ones you can be intentional about inviting God to recycle your trash and bring forth treasure this Easter. God is good!
God's blessings,
Pastor Tom 
WHERE AND HOW TO DONATE USED TEXTILES:
• For a complete and up to date list of our Toss Boxes around Lincoln, click here.
• You can also drop them off at our Help Center at 6800 P St.
• If you are donating "dead textiles" – items with holes, stains, or no longer usable – it is very helpful to us if you put them in a bag separate from other textiles donated, and label the bag.