Single Dads and their Kids Have A Place at PCM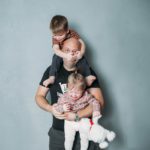 Kevin is a single dad who is the sole parent for his children. He is also homeless. If he were in a city other than Lincoln, it's highly probable he would not be able to find a shelter that would accept his family. He would likely have to make the devastating choice between surrendering his children, or living in their car. But praise God, he's here, and he and his kids are our guests at PCM.
Kevin is one of three dads currently staying with us. Did you know that PCM is the only shelter in Lincoln that will accept single fathers with their kids?
Single fathers are an underrepresented part of the homeless community. However, there are around 600,000 single-father families every year facing homelessness in America.* The problem is that many shelters are not set up to serve these single fathers. They will take the father, but not with his kids. This leaves single fathers facing a crossroads – do they separate from their kids or stay on the streets with them?
Parenting alone is difficult, but when you add in the challenge of homelessness, it can be really tough. Homeless dads deal with a great amount of shame and a sense of failure, whether it be from consequences of their own mistakes, or circumstances beyond their control. Many are not sure how to get back on the right track.
Besides providing for their basic needs, one of the main ways PCM helps these men is by encouraging them to stay the course and keep moving forward – that there is hope for recovery, and renewal of broken relationships. These dads and kids hold a special place in our hearts.
When you support PCM, you help men like Kevin to raise their kids well. But none of this happens without your prayers and vital financial support. Would you consider making a donation to us? It could make a difference in their lives!
God bless you richly, and to dads everywhere – Happy Father's Day!
-Pastor Tom
*ResearchGate